FR01 (Fleetrace 01)
FR01 is the easiest to use client program in a family of applications. Get the source of the program from GitHub and build yourself using freely available tools.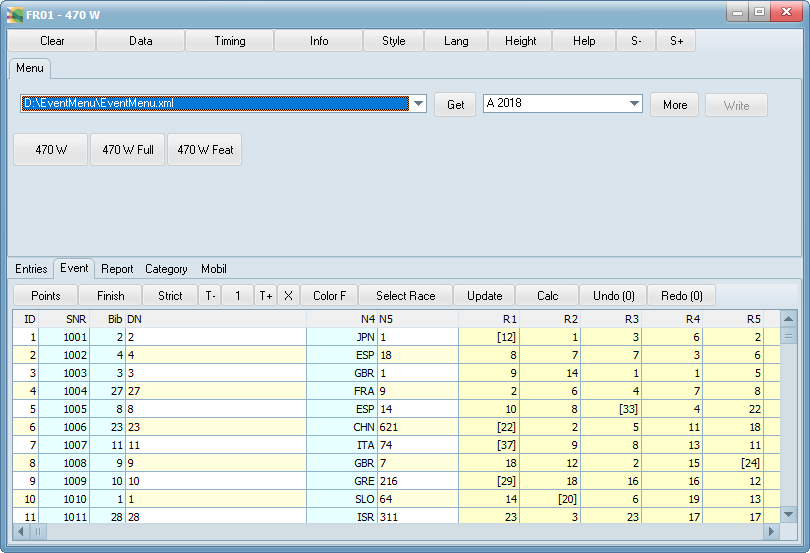 FR is a result program for the sport of sailing designed for sharing the original data and not the reports. The program computes the results. What you need is the program itself and the data. All parties can use the same program. It is open source. Once loaded you can carry out a what-if analyses, e.g. delete a dnf and enter the fictional finish position.
Usage Example: After race 3 you click on a button in FR01 to download the latest data, including race 2. You can then quickly enter the finish positions of race 3. It will take less than a minute if you copy the results from the black board or via phone. The client program computes and sorts in real time. You can change finish positions or the number of throwouts, add penalties or delete them.
---
FR funktioniert auf der Grundlage dass die original Event-Daten geteilt werden und nicht etwa nur die davon erstellten Berichte (Reports). Sie benötigen das Programm und die Daten. Alle können das gleiche Programm verwenden. Es ist Open Source. Einmal geladen können Sie die Daten ändern. Eine Was-Wäre-Wenn Analyse (dnf löschen und Wunsch-Platzierung eingeben) ist möglich.
Beispiel: Unmittelbar nach Schluss der dritten Wettfahrt laden Sie sich per Button-Click in FR01 den aktuellen Stand nach Wettfahrt 2 herunter. Den Zieldurchgang der dritten Wettfahrt können Sie schnell eingeben. Es dauert weniger als eine Minute den Zieldurchlauf vom schwarzen Brett zu übernehmen oder die Ansage per Telefon einzugeben. Das Programm rechnet und sortiert sofort. Sie können Zielpositionen ändern oder die Anzahl der Streicher sowie Disqualifikationen hinzufügen oder auch löschen.